Geosynthetics are used in temporary works applications to provide significant cost and time savings throughout the construction process; from stabilising temporary access roads, haul roads, site compounds, embankments and slopes.
ABG's range of geotextiles and geogrids are quick to install compared to traditional methods, reducing the volume of natural materials required and saving material and transport costs.
ABG's geosynthetic products provide permanent and temporary solutions for ground reinforcement, slope reinforcement, erosion control, pavement reinforcement and structural drainage.
ABG products are proven and tested for use in temporary works applications.
Haul Roads / Temporary Access Roads
Abgrid geogrids, Trigrid geogrids, Abtex woven and Terrex NW non-woven geotextiles and Abweb geocells can all be used to reduce the construction time and materials required for haul roads and temporary access routes across construction sites. Our technical team are able to offer cost-benefit advice on which is best suited to your project.
Road Foundation Design using CD 225
According to the Design Manual for Roads and Bridges (DMRB) document CD 225 (Revision 1, Apr 2020 formerly IAN 73/06 revision 1, HD 25/94), clause 2.7, Note 2: "Options for improvement of the subgrade include excavation and replacing between 500 to 1,000 mm of the soft subgrade with granular fill, mechanical stabilisation (geogrids and/or geotextiles) and soil stabilisation". ABG can propose a stabilised foundation solution to compensate for lower CBR strength values (i.e. less than 2.5%) and meet the foundation class requirements. The design for all foundation areas shall be based on achieving a foundation class selected from Table 3.7 in CD 225:

Tree Root Protection
Abweb TRP is a geocellular system for protecting tree roots where a temporary access route is required without damaging nearby trees.
Site Compounds
Site compounds require access routes, temporary car parking and storage areas. ABG's range of Trigrid and Abgrid geogids provide ground stabilisation by mechanically stabilising granular materials effectively. Abtex woven geotextile and Terrex NW geotextile provide separation functions when constructing unpaved access roads and parking areas.
Crane Pads / Piling Mats
ABG geogrids and geotextiles are ideal for temporary applications including stabilising weak ground for mobile cranes, piling rigs and working platforms. Geogrids mechanically interlock with well graded angular stone, reducing subbase thickness and increasing bearing capacity.
Wind farms access roads
ABG Truckcell provides a permeable grass or gravel stabilised surface suitable for the heavy plant involved in the construction and maintenance access of wind farms sites.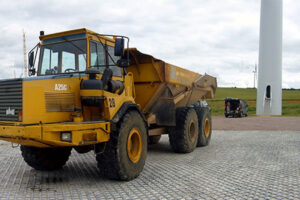 Temporary Earthworks
Drainage is a major consideration in all Civil Engineering earthworks projects, including temporary works. ABG Fildrain is a Fin Drain system that saves installation time and reduces costs compared to traditional stone based drainage layers.
Where temporary slopes and embankments are constructed, ABG provide a range of erosion control mats and geocells to confine fill material to reinforce the surface structure.
Specific design advice and guidance is available from our experienced in house technical team who will help ensure the right product is specified for your temporary works project.