ABG specialise in the design, supply and installation of a wide range of blue roofs, green roofs and biodiverse roof systems. This typically includes everything above the waterproofing system; from attenuation systems, drainage & reservoir layers (e.g. Roofdrain) to insulation, paving, growing media and vegetation layers (such as sedum and wildflower).
Blue roofs contribute significantly to good SuDS design, either with or without a Green Roof finish. They work by providing temporary storage of storm water and controlling discharge in line with site planning conditions. Similarly to Green Roofs they are suitable for implementation on both new-build and retro-fit developments, flat roofs or podium decks with either a warm or inverted roof build up.
In the case of Green Roofs, virtually any type of roof structure can be adapted to accommodate the system components. These include domestic and commercial, both new-build and retro-fit, flat and pitched. The significant benefits of a Green Roof are wide ranging, such as helping to mitigate the effects of climate change, whole-life cost benefits, providing amenity areas, through to maximising BREEAM credits or simply to add a natural aesthetic within an urban environment.
Urbanisation and development of land creates hard impervious surfaces that absorb only 5% of rainfall, leaving the remainder to run-off into both natural and man-made water systems which struggle to cope with the volumes. This has been highlighted in recent flooding events occurring all over the country.
Green roofs can play an important role in mitigating these events, with as much as 95% of rainfall absorbed into the vegetated surface, especially when designed as an integral element of a sustainable urban drainage system, also known as SuDS. SuDS design demands that water falling across a development site is not simply channelled into storm water drains and discharged into the local river. Instead the drainage is designed to mimic that found in nature where water is attenuated, treated and infiltrated through natural processes.
Blue Roofs
Blue Roofs are a more recent development which are explicitly designed to attenuate rainwater, rather than draining it from the roof as quickly as possible, as in traditional designs. ABG blueroof offers a new concept in the management of storm water by collecting and retaining rainfall within the actual roof structure, before discharging it at a controlled rate. This is particularly beneficial on sites where land take is tight, such as in urbanised areas, where installation of other attenuation techniques such as ponds or subterranean tanks is not feasible.
A blue roof can accommodate a wide range of surface finishes whilst also forming an integral source control and attenuation element within the SuDS design on modern developments, often eliminating the requirement for storage capacity in other areas of the site.
Like green roofs, blue roofs are suitable for use on a wide range of substrates and are compatible with most modern waterproofing systems. They are also flexible when it comes to the roof build up, being equally as effective on an uninsulated podium construction as they are within a warm or inverted roof construction.
The ABG green roof and ABG blueroof systems have been used extensively across many leading sustainable developments across the UK. As with many sustainability aspects, the final type and design of the green roof system is dependent on the project specific requirements. ABG Geosynthetics offer a complete green and blue roof service; including design installation and on-going maintenance contracts.
In order to meet a broad variety of roof designs, ABG offer a broad range of final surface finishes; including extensive, intensive and biodiverse vegetation, along with paved finishes typical of a podium deck.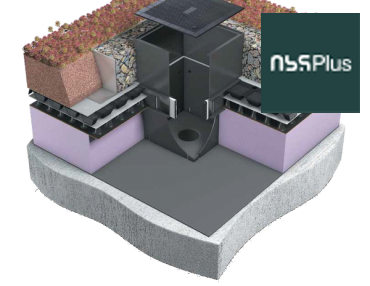 Extensive Green Roofs
Extensive Green Roofs, often referred to as living roofs, sedum roofs or wildflower roofs, are the most common type and are relatively self-sufficient. They are not designed or constructed with the intention of being trafficked by pedestrians. Whilst not providing an amenity area, they do contribute to improving air quality, reducing the visual impact of the roof and assist in controlling rain water run-off / harvesting in addition to enhancing the acoustic and thermal properties of the roof.
Biodiverse Roofs
Biodiverse Roofs, sometimes referred to as 'Brown' roofs, have always been the least commonly used of the green roof family. However, in recent years this has begun to change. Increased development in urban areas, especially London, have seen a substantial increase in their implementation. The purpose of a biodiverse roof is to replace and often enhance the habitat that would otherwise be lost to the new development. Designed to be relatively self-sufficient; they are not designed or constructed with the intention of being trafficked by pedestrians, but instead to create a natural habitat to support a variety of plants, birds, animals and invertebrates. They also contribute to achieving additional BREEAM points in the categories of improved air quality, softening the visual impact of the roof and helping to control rain water run-off and harvesting, as well as improving the acoustic and thermal properties of the roof.
Intensive Green Roofs
Intensive Green Roofs, often referred to as a Roof Garden or Roof Terrace, may be landscaped to include trees, lawns, flower beds and paved areas. With an intensive roof, the only real limit to its scope is the weight of the system and the structure required to support it. Many modern developments incorporate landscaped roofs at ground level, for example above basement areas and underground car parks. These are commonly referred to as podium decks. The decked areas themselves create additional amenity space on urban developments.
Podium Deck Drainage
Many contemporary buildings incorporate landscaped basements and roofs known as podiums. The basement podium can vary from lawn & paved amenity areas to car parking. These waterproofed decks often have minimal falls, making them susceptible to standing water. Deckdrain offers an effective and reliable drainage system for podium decks of all sizes. In addition to drainage, Deckdrain's high CBR puncture resistance protects the waterproofing from backfilling forces and root penetration, thus extending the performance and life of the system.
Click for recent Green & Blue Roof Projects