Doune Castle is a medieval stronghold near Stirling in central Scotland, originally dating back to the thirteenth century. The castle was used as the main filming location for the Winterfell Kingdom in the Game of Thrones TV series and as a backdrop for various scenes in the Monty Python and the Holy Grail film.
As part of a maintenance programme to upgrade access routes to and around the castle, a new stepped ramp and wider section of road from the main entrance was designed. The change in elevation from the road to the top of the footpath required a new retaining structure to secure the cut slope.
ABG's vegetated Webwall system was chosen as a faster construction that minimises the number of carbon intensive deliveries associated with using hard landscaping materials. The flexible HPDE geocellular panels are a natural green colour at the front cells of the panels to blend in with the woodland setting and they are easy to unfold, expand and pin into position to suit the curved footprint of the site. The first layer of panels are stretched out and pinned into position into an excavated footing before backfilling with site won fill. The fill is compacted in tiers and the process is repeated until the full height of the wall has been constructed. The easy to handle and flexible nature of the Webwall panels enables a fast installation, completed in just 4 days compared to the additional time and cost (from both a financial and carbon point of view) associated with building an equivalent stone structure.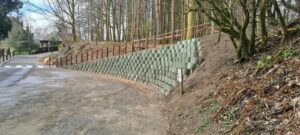 To find out more about the project, read the case study here